Earlier Blogs Click Here
Our Pinterest Our Facebook Our Instagram
We meet Anne in the Smoky Mountains on 441 on the Tennessee
side at a stop taking pictures of trees! Why we noticed Anne because
she was towing a mini camper. We started talking about campers
and where she came from and all.
Unbelievable, She was from Boston we were from Lowell Mass, 30 miles away. She moved to Tampa Florida and we moved to Palm Harbor Florida, 30 miles away. She is staying in Townsend TN, we are staying in Pigeon Forge TN, yup, 30 miles away!
She purchase this mini teardrop camper from Honey Badger in Lithia Florida. The camper she bought sells for about $2500 and weighs around 500 pounds. Easily towed with a small car and you can push it into the place you want it.
Plus you can store it in your garage!
2016 Our 3rd year using the Zoom Trailer and the Mini Camper.
We're still using our 18 foot trailer and this winter we parked it in Inglis Florida at Village Pines Campground on US 19. The campground is about 75 miles north of our home in Palm Harbor and we get up here for the week.
We go back home on the weekends because of my music business.
We stayed at Village Pines for about three months and loved it.
Here is what you need to know about the campground;
There are trees, squirrels, deer, pigs, birds and turtles there, that's it.
Very few people around here. The bathrooms and showers are okay but not heated in the winter. Most of the folks living here are permanent. It's very quiet here. The biggest thing that happens here is on Thursday night. That's when all the people in Inglis and Yankeetown gets together at the women's club in Yankeetown. There you can purchase lunch and desserts for a few dollars. You can shop at the thrift store and at 7 pm it's BINGO time. I won $13 once! Big winner!

We took our new mini camper for it's first time out to Faver-Dykes State Campgrounds in the St. Augustine area of Florida. This was an odd place but very nice campgrounds. We looked online and all the site were supposedly reserved. But I called the rangers office and asked if we might be able to get a site for the night. He said sure just come in and pick a site. We got there and one site didn't have a reserve sign on it so we took it. The next morning the ranger came by and we told him we wanted to stay another night. He said okay but we'll have to move the trailer to the next reserved site across from us. We moved the trailer and to our surprise nobody ever showed up to take a single reserved site! During our walks around the campgrounds we saw lots of ticks.
In March 2016 we left Palm Harbor with our newly built 8×4 foot mini camper headed for
























San Antonio Texas to see family. We were on route 10 during the time that a low pressure was sending rain bands up through Louisiana and Texas. When we got to the Texas line the Welcome Center was closed because it was starting to flood there. By the time we got to the Elks Lodge in Beaumont Texas the road was flooded. They closed Route 10. We just made it through.
When we got to my sons house in San Antonio we had lots of plans and the first thing to do was move our mini camper into his garage. Well his garage door was ½" too short so I had to remove the vent cover to get it inside the garage. On the way down the little ladder I stepped on a round log. The log rolled away and I landed on the driveway with both wrists smashed! One wrist was probably fractured but I didn't go to the hospital. I just stayed on the couch for two weeks with ice on my wrist and the dogs next to me.
The family wanted to go camping and we ended up at Garner State Park in Texas. It's about 100 miles west of San Antonio. We drove through many miles of nothing. All the time Karen was worried about staying out in the desert and frying in the sun. Well Garner State Park is an oasis in the desert with the Frio River passing through it. The park is beautiful with small mountains lots of trees and animals. I couldn't do much but sit at the campsite while the others went hiking. I was still hurting from the fall and had to take it easy. While I as in the lounge chair reading a book a Road Runner bird came right to me. I know it was a Road Runner
because it looked just like the bird in the cartoons I used to watch as a kid.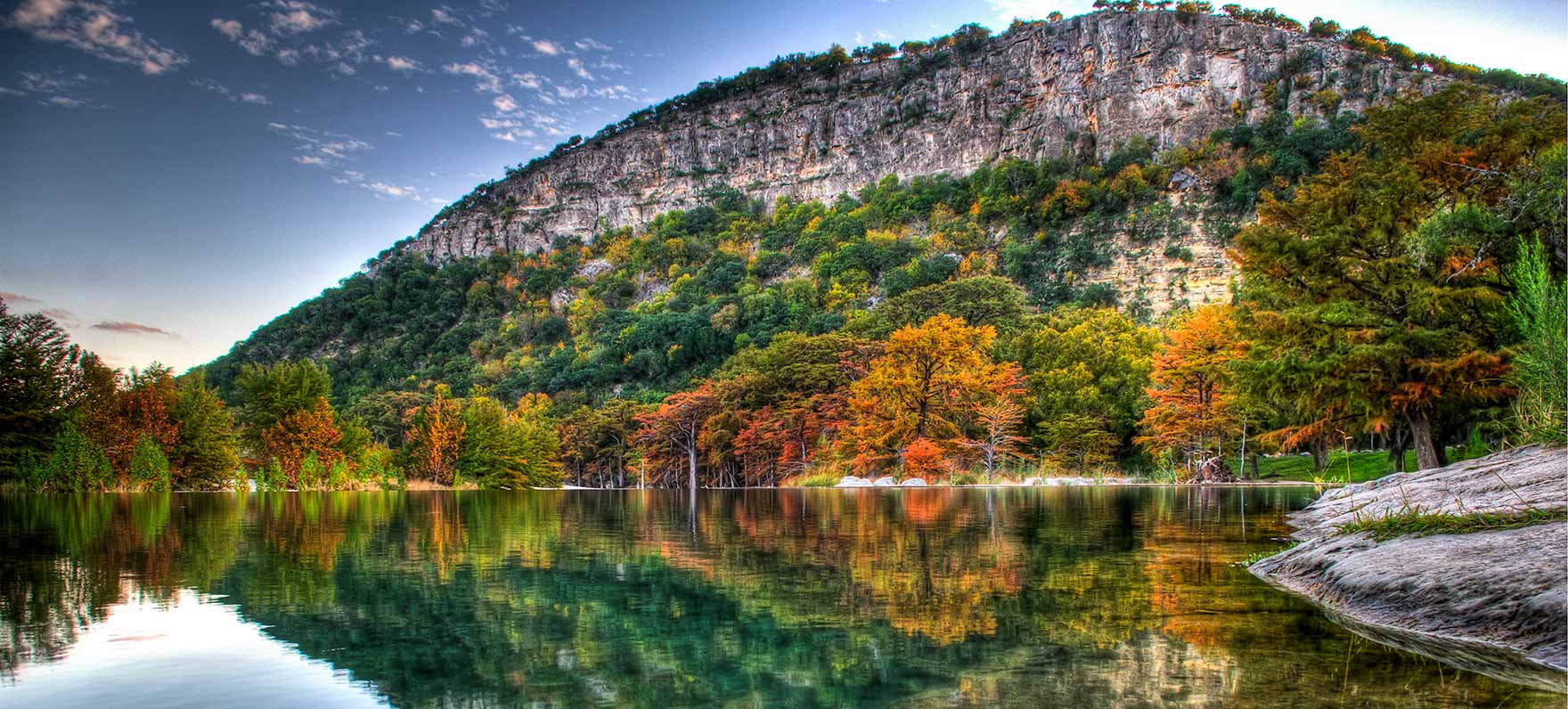 While in San Antonio I noticed water under the SUV. Yup, bad water pump.
My family told me about this great mechanic they use and I should get an estimate from him for the water pump. His estimate was about $640 to fix the water pump. So the first thing I did was go to YouTube to see what kind of a job it might be. I was surprised to see that the whole front of the SUV had to come off just to get to the water pump. The video was very good explaining how to remove stuff that you couldn't if you didn't watch the video. I decided to go for it and $160 later and 4 hours with bad wrist and a little help from my son I was about $450 ahead. Many months later everything is still good.
May 2016 We went back to King's Holly Haven in Pigeon Forge where we plan to leave the Zoom trailer until the end of October. We now have many friends in Pigeon Forge and it seems like we always have something to do and someplace to go. We bought Dollywood annual passes so we could enjoy the park while in Pigeon Forge. We got to Dollywood at the start of Bluegrass and BBQ festival. It was absolutely a great time. After that week there were no more shows in the Celebrity Theater. That was a big disappointment for us because in 2014 we went to Dollywood
every week for all the great shows at the Celebrity Theater.
We won't be purchasing annual passes for Dollywood in the future.
During the summer we went back to Palm Harbor Florida to get the new
mini camper for our vacation north. We were headed for our first big travel
run with the mini camper. We left Palm Harbor for Bluff Creek Park in Alabama. It's about 10 miles west of Lumpkin Georgia and only six miles from Providence Canyon, our destination. The park is beautiful and has lots of amenities. The bathrooms and showers were very clean.
Providence Canyon in Lumpkin Georgia was amazing, it's a small version of the Grand Canyon here in the south east. It was formed in the 1800s because of the misuse of the land. In the beginning people were mining there for iron ore. When they stopped the mines were abandoned. Eventually rain and weather eroded the area forming the canyons. You should stop and see this if you are in the area.
We stopped in Pigeon Forge for a short stay on our way north.
Then we were off to Virginia, Shenandoah Mountains. We stopped at
Loft Mountain Campground on Skyline Drive at the top of the mountain ridge. The campgrounds are beautiful and the bathrooms are clean.
Here at the top of a mountain not near any city lights you can see an amazing amount of stars in the night sky. Our first time to Loft Mountain campground in 2014 we were inundated with gnats. This year we didn't have any trouble with bugs, might have been the timing. On our way out of the park we saw a very big black bear in the street. He didn't care that we were there, he just stopped and watched us. So we stopped and watch him.
NO CAMERA other than my wife's iPhone!!
From Loft Mountain we went to the Promised Land Campground in Pennsylvania. This campground was very quiet and just a few folks there when we stayed. The bathrooms and showers were amazingly nice, luxurious!

From the Promised Land we went to Windham, New Hampshire, to visit family. When we get up to New England we always stop at our favorite restaurants. In Lowell MA there is; Olympia Restaurant and Expresso Pizza downtown.
Did you know there is a castle in Windham New Hampshire?
It's call Searles Castle on the east side of town.

From New Hampshire we headed for Niagara Falls. We went the back roads through New Hampshire and Vermont. We would love to spend more time in beautiful Vermont. We stopped at Four Creek State Park in New York State right on Lake Ontario. The campgrounds were large and nicely kept. Bathrooms and showers were also nice and clean. At night we all would go down to the lake shore and watch the sunset. In the morning the Canadian geese would land in the large field near the lake shore.
Geese are very loud and big. We could see Toronto Canada from the shore.
It was only about 10 miles to Niagara Falls, straight easy roads.
We stayed on the American side all morning and walked over to the Canadian side for the afternoon. Both sides were nice but the Canadian side was absolutely decked out with beautiful flower gardens. You need a passport to get over to the Canadian side.
We left Niagara Falls heading for St.. Ignace, Michigan, but we had to make
one stop in between. We stayed one night at Beaver Trail RV Park in West Branch MI. This was a nice clean campground and the facilities was all well kept. Beaver Trail RV Park is a nice family campground.
We headed for Ste. Ignace to stay at the Tiki RV Park just over the Mackinaw Bridge. It cost us $6.00 to go over the bridge with our mini camper.
We picked Tiki RV Park because the cruise line "Arnold Cruise Line" was just a few miles away. Tiki RV Park is a very nice park in a very good location. The bathrooms were nice and clean. The folks we meet in the park were very friendly and we heard lots of great stories. One thing we learned was the people in the upper Peninsula refer to the ones living below the bridge as Trolls I was surprised to learn that, we didn't tell anyone we were from Florida. I hope they didn't see my tag.
We took the Arnold Cruise Line to Mackinac Island. At the time we were there it cost us $18 each for round trip tickets. Their boats are slower than the others heading over to the island but we decided that the price was right and slow boat ride was part of the whole experience. Mackinac Island was really something else. There are no motorized vehicles on the island. You either ride a bicycle or you walk. Nearly every business and
home is perfectly groomed. New paint and fresh flowers are everywhere. The Grand Hotel at the top of the hill is amazing to see. They now charge money just to walk inside the hotel. We didn't pay, the outside was enough for us.
We took a day trip up to Sault Ste Marie to see the locks.
We got there just in time to watch a ship come into the locks from Lake Superior heading for Lake Huron. There is a 21 foot difference in height between the two lakes.
It was very interesting to watch the ship pull into the locks, locks close and empty out. Then the ship floats away. While we were in the area we went to a restaurant our friend Howard told us about called The Antlers. It's on East Portage Ave. in Sault Ste Marie. Check out the picture album with this link; Online MI
We went in and bought two coffees and a slice of pie. The pie was to die for! My friend Howard was right this is a place you'll want to see.
There are antlers and taxidermized animals all over the whole restaurant.
If you are in this area be sure to stop and check it out.
We were up here in August and I must say it was cool!
We left Ste. Ignace and headed for Ohio where we stopped at Oakdale Campground in Quincy, OH. The campground was nice the bathroom was far up a hill and clean. If you stop here don't use the outhouse near the office. Don't go near it!
We stopped in Cincinnati Ohio and meetup with our friend Mike McCarthy and his family there. Mike is a retired firefighter from New York City. He was there during 9/11/2001. He is living in Dunedin, Florida with Diane Leuck. She is a full time RVing wanna-be. It won't be long and she will also be RV living most of the year. We left Cincinnati for Pigeon Forge and about 6 hours of driving.
September and October are going to be in Pigeon Forge were we will enjoy all the Fall festivals. Townsend Heritage carvers festival Oct 1st and 2nd;
Hillary and Donald;

In November we'll be back in Florida and I'm going to start building my next mini-camper.
Rick Mercier 2016 blog